MOSCOW RUSSIA
《奇迹车间》创新的木偶和牵线木偶,示范讲座,为专业人士和木偶爱好者(90分鐘/1~3人/無付費行李/多達500名觀眾/语言英语或俄语)
WORKSHOP OF MIRACLES
master-class puppet show (lecture-demonstration)
language - English, Russian
technique - string marionettes, giant, LED, EL-wire and experimental puppets
duration - up to 90 min/ up to 500 spectators
transportation - 1-3 persons/ no paid luggage
WORKSHOP OF MIRACLES - lecture-demonstration about innovative puppets including LED, EL-wire, giant puppets and modern marionettes. Nikolai Zykov is a world famous puppeteer who has performed his puppet shows in more than 40 countries of Europe, Asia, Africa, North and South America and has created and has made more than 200 unique puppets. Nikolai Zykov is an author, director, artist and performer of over 20 puppet performances which have received many international awards for innovative creativity and outstanding performing mastery, including Awards of World UNIMA Congresses.
Nikolai Zykov has performed his puppet shows in many cities of Russia and also in Argentina, Brazil, Venezuela, Mexico, United States, Iceland, Estonia, Latvia, Byelorussia, Ukraine, Poland, Germany, Belgium, United Kingdom, France, Spain, Italy, Switzerland, Austria, Czech Republic, Slovakia, Hungary, Romania, Bulgaria, Greece, Cyprus, Turkey, Israel, Egypt, South Africa, Mauritius, Seychelles, Iran, Kazakhstan, Uzbekistan, Tajikistan, Afghanistan, Pakistan, India, Sri Lanka, China, Singapore, Taiwan, South Korea and Japan.
Among the awards: "Arts Innovation" Award of the 12th China Shanghai International Arts Festival (2010), Diploma and "Excellent Show" Award of the 21th UNIMA Congress and World Puppet Festival in Chengdu (2012), "Performance Award" of Asia-Pacific UNIMA commission (2014), Award of the 4th Colombo International Theatre Festival (2015), Award "For brilliant performing mastery" of the 12th International Festival of Contemporary Puppetry in Bucharest (2016), "Outstanding Creativity" Award of Asia-Pacific UNIMA commission (2017), "Sell-out show" Laurel of Edinburgh Festival Fringe (2017).
Author, artist, director and performer - NIKOLAI ZYKOV

Wardrobe, assistant of puppeteer - NADIA DUBININA

Stage technician, light operator - SERGEY ISAEV

All puppets are created, designed and made by NIKOLAI ZYKOV

First presentation - November 11 2007, Moscow, Russia
WORKSHOP OF MIRACLES was presented in Russia, Sri Lanka and South Korea.
Master class program;
1. Design of LED marionettes. For example - miniature MAN OF THE XXI CENTURY
2. Design of transforming LED marionettes. For example - miniature SPIDER-ALIEN
3. Design of electroluminescent wire puppets. For example - miniature NEON CUCUMBERS
4. Design of Long rod puppets. For example - miniature NEON CATERPILLAR
5. Design of Group of puppets. For example - miniature MOSCOW NIGHTS
6. Design of Flying above the audience puppets. For example - miniature NEON BUTTERFLY
7. Design of Giant puppets which are created in front of the audience. For example - miniature SKELETOSAUR
(The program can be changed)
See PHOTO ALBUM of WORKSHOP OF MIRACLES
"Nikolay Zykov is one of the most important puppeteers of the world ... a master!" Festival de Bonecos, Canela, Brazil.
"...the most titled puppeteer of Russia, the master of world class..." News. Culture TV, Russia.
"Nikolai Zykov is making the step of technical development into the future." Jacob Steiner, Austria.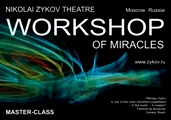 WORKSHOP OF MIRACLES poster
Technical requirements: one microphone on the cord and a non-stop mp3 (or Audio CD) playback, the preferred stage height is 1m 10cm, depth is 6m, the curtains must be black or dark. The team provides itself with lighting equipment, for connection 220 V socket is required on the stage.
---