MOSCOW RUSSIA
串木偶:今天和明天。宗师级。木偶的故事,与观众的讨论,传统的字符串木偶,创新的字符串木偶。
(90分鐘,3人,3個行李箱,60公斤計,最多500個觀眾,英语,俄语)。
MARIONETTES: TODAY AND TOMORROW
master-class puppet show (lecture-demonstration)
language - English, Russian
technique - string marionettes (traditional and innovative)
duration - 90 min/ up to 500 spectators
transportation - 1-3 persons/ no paid luggage
MARIONETTES: TODAY AND TOMORROW - lecture-demonstration about traditional and innovative marionettes. Nikolai Zykov is a world famous puppeteer who has performed his puppet shows in more than 40 countries of Europe, Asia, Africa, North and South America. Nikolai Zykov has created and has made more than 200 unique marionettes, hand, rod, radio-controlled and innovative puppets. Nikolai Zykov is an author, director, artist and performer of over 20 puppet performances which have received many international awards including Award of World UNIMA Congress.
Author, artist, director and performer - NIKOLAI ZYKOV

Wardrobe, assistant of puppeteer - NADIA DUBININA

Stage technician, light operator - SERGEY ISAEV

All puppets are created, designed and made by NIKOLAI ZYKOV

First presentation - Moscow, 2012

Nikolai Zykov master-classes took place in Russia, USA, Latvia, Iran, Sri Lanka, Singapore, China, Taiwan and South Korea.
Master class program:

1. Familiarity with marionettes. Peculiarities of the first miniatures, which opens presentation. For example - miniature RUSSIAN BEAUTY

2 . Weight distribution in the marionette. Dancing marionettes. For example - miniature BALLERINA

3 . Original trick. Marionettes with musical instruments. For example - miniature SAXOPHONIST

4 . Marionettes-transformers. Marionettes with lots of tricks. For example - miniature ORIENTAL MAGICIAN

5. What marionettes can tell. Marionettes of unusual materials. For example - miniature MANTIS

6. Glowing marionettes. Marionettes of electric lamps, LEDs and electroluminescent wires. For example - miniature SPIDER-ALIEN.

7.

Singing

marionettes.

Interactive communication

with the audience

. For

example -

miniature

QUEEN

OF DISCO

8. Duet of marionettes. Operating of two marionettes at once. For example - miniature PHANTOM OF THE OPERA

9. Final miniature. Operating of lots of marionettes at once. For example - miniature RUSSIAN SOUVENIR

See PHOTO ALBUM of MARIONETTES: TODAY AND TOMORROW

"Nikolay Zykov is one of the most important puppeteers of the world ... a master!" Festival de Bonecos, Canela, Brazil.

"...the most titled puppeteer of Russia, the master of world class..." News. Culture TV, Russia.

"Nikolai Zykov is making the step of technical development into the future." Jacob Steiner, Austria.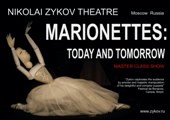 MARIONETTES: TODAY AND TOMORROW poster
---