MOSCOW RUSSIA
《

新年木偶戏

》有趣,神秘和节日的新年木偶综艺节目为儿童和家庭观众,飞行雪花,无线电控制的雪人和独特的雪幻想(50分鐘/3人/無付費行李/多達1000名觀眾/無語)
MIRACLES, ONLY!
NEW YEAR PUPPET SHOW
wordless puppet performance for children and family audience
technique - string marionettes, giant, hand, radio-controlled and experimental puppets
duration - 50 min/ up to 1000 spectators
transportation - 3 persons/ no paid luggage
MIRACLES, ONLY! - flying snowflakes, radio-controlled Snowmen and unique snow fantasy in fun, mysterious and festive New Year puppet variety show for children and family audience. Nikolai Zykov is a world famous puppeteer who has performed his puppet shows in more than 40 countries of Europe, Asia, Africa, North and South America. Nikolai Zykov has created and has made more than 200 unique marionettes, hand, rod, radio-controlled and innovative puppets. Nikolai Zykov is an author, director, artist and performer of over 20 puppet performances which have received many international awards including Award of World UNIMA Congress.
Author, artist, director and performer - NIKOLAI ZYKOV

Wardrobe, assistant of puppeteer - NADIA DUBININA

Stage technician, light operator - SERGEY ISAEV

All puppets are created, designed and made by NIKOLAI ZYKOV

First presentation - December 25 2000, Salut Concert Hall, Moscow, Russia.

Modern edition - January 24 2015, Moscow Puppet Theatre, Moscow, Russia.
IN THE PROGRAM: SNOW FLAKES, NORTHERN GIRL, SNOW FANTASY, SNOWMEN, QUEEN OF DISCO, MOSCOW NIGHTS, NEW YEAR TREE, NEW YEAR DRAGON.
See PHOTO ALBUM of NEW YEAR PUPPET SHOW.
NEW YEAR PUPPET SHOW was presented in Russia and Latvia.
"In Riga Congress Hall passed a fantastic puppet show for children and adults. It was presented by the famous Moscow puppeteer Nikolai Zykov. Puppets danced, sang and even fly. It was fun, mysterious and festive!" Alain Sinitsina, Chas. Riga, Latvia.
"Yes, everybody sang, danced in the Armory of the Moscow Kremlin. Children were invited to stage by a famous actor Nikolai Zykov. Puppets in all its splendor with great artistry and joy were performed for children. On New Year's vacation in Moscow held a huge number of performances to surprise the children. It is very difficult to find new ideas. However, we have succeeded. "Olga Mishina, In Presnya, Russia.

"Spectators were invited to the great hall of the Palace of culture "Salut" on New Year Show, which gave an unique artist Nikolai Zykov. His original puppets "issued a terrific concert", do not leave anyone indifferent. Children were dancing during a concert in the auditorium aisles and front of the stage, supported by "the modern expression of emotion: shrieks and whistles." Svetlana Maskova. Octyaborskoe Pole, Russia.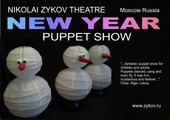 NEW YEAR PUPPET SHOW poster
---