MOSCOW RUSSIA

《歌舞表演变态》独特的木偶与难以置信的转变,成人的木偶戏,罗马尼亚布加勒斯特国际当代木偶节"辉煌表演精通奖"(60分钟或1小时50分钟同休息时间/3人/无付费行李/多达800名观众/无语)

CABARET OF METAMORPHOSES
(PUPPET CABARET)
wordless puppet performance
technique - string marionettes and giant puppet
duration - 60 min or 1 h 50 min with one intermission/ up to 800 spectators/ 12+
transportation - 3 persons/ no paid luggage
CABARET OF METAMORPHOSES - unbelievable transformations of marionettes and light puppets in multi award-winning show. Nikolai Zykov is a world famous puppeteer who has performed his puppet shows in more than 50 countries of Europe, Asia, Africa, North and South America and has created and has made more than 200 unique puppets. Nikolai Zykov is an author, director, artist and performer of over 20 puppet performances which have received many international awards for innovative creativity and outstanding performing mastery, including Awards of World UNIMA Congresses.
"...Using modern materials and technologies, Zykov presented a very spectacular show, which excited the audience by its refinement and luxury..." Revista E. Sao Paulo, Brazil.
"Zykov captivates the audience by precise and majestic manipulation of his delightful and complex puppets" Festival de Bonecos, Canela, Brazil.
Nikolai Zykov has a variety of technical surprises that make his shows a success. His puppets live independently from their creator." Jacob Steiner, Austria.
Among the awards: "Arts Innovation" Award of the 12th China Shanghai International Arts Festival (2010), "Excellent Show" Award of the 21st UNIMA Congress and World Puppet Festival in Chengdu (2012), "Performance Award" of Asia-Pacific UNIMA commission (2014), Award of the 4th Colombo International Theatre Festival (2015), Award "For brilliant performing mastery" of the 12th International Festival of Contemporary Puppetry in Bucharest (2016), "Outstanding Creativity" Award of Asia-Pacific UNIMA commission (2017), "Sell-out show" Laurel of Edinburgh Festival Fringe (2017).
Nikolai Zykov has performed his puppet shows more than 3500 times in more than 50 countries around the world: in Argentina, Brazil, Venezuela, Mexico, United States, Canada, Iceland, Estonia, Latvia, Byelorussia, Ukraine, Poland, Germany, Belgium, United Kingdom, France, Spain, Italy, Switzerland, Austria, Czech Republic, Slovakia, Hungary, Romania, Moldova, Transnistria, Bulgaria, Greece, Cyprus, Turkey, Israel, Egypt, South Africa, Mauritius, Seychelles, Azerbaijan, Iran, Kazakhstan, Uzbekistan, Tajikistan, Afghanistan, Pakistan, India, Bangladesh, Sri Lanka, China, Singapore, Taiwan, South Korea and Japan.
I
n the program - WELCOME TO THE CABARET, PARADISE BIRD, ORIENTAL MAGICIAN, PIPES, PHANTOM OF THE OPERA, CD MAN, QUEEN OF DISCO, SECOND BIRTH, RUSSIAN SOUVENIR, GIANT.
Author, artist, director and performer - NIKOLAI ZYKOV

Wardrobe, assistant of puppeteer - NADIA DUBININA

Stage technician, light operator - SERGEY ISAEV

All puppets are created, designed and made by NIKOLAI ZYKOV

First presentation - June 21 1996, the 9th Canela International Puppet Festival, Brazil.

Modern edition - January 23 2015, Moscow Puppet Theatre, Russia.

Award "for brilliant performing mastery" of the 12th Bucharest International Festival of Contemporary Puppetry (Romania).

Diploma of the Sao Paulo International Puppet Festival (Brazil).

Official program participant of the 12th Charleville-Mezieres World Puppet Festival (France).
See PHOTO ALBUM of CABARET OF METAMORPHOSES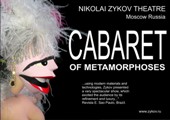 CABARET OF METAMORPHOSES poster
Technical requirements: one microphone on the cord and a non-stop mp3 (or Audio CD) playback, the preferred stage height is 1m 10cm, depth is 6m, the curtains must be black or dark. The team provides itself with lighting equipment, for connection 220 V sockets are required on the stage and at the end of the hall.
---