MOSCOW RUSSIA

《新动画》 新类型的动画对象,成人实验木偶表演(60分钟或90分钟/3人/无付费行李/多达800名观众/无语)
NEW ANIMATION
(CABARET OF METAMORPHOSES, part 2)
wordless puppet performance for adults
technique - vertical and horizontal marionettes, giant, radio-controlled, LED, pneumatic and experimental puppets
duration - 60 or 90 min/ up to 500 spectators
transportation - 3 persons/ no paid luggage
NEW ANIMATION - one-of-a-kind experimental visual performance of new constructional types of animated objects for adults, innovational journey into the dreams and hopes of human. Nikolai Zykov is a world famous puppeteer who has performed his puppet shows in more than 40 countries of Europe, Asia, Africa, North and South America and has created and has made more than 200 unique puppets. Nikolai Zykov is an author, director, artist and performer of over 20 puppet performances which have received many international awards for innovative creativity and outstanding performing mastery, including Awards of World UNIMA Congresses.
Author, artist, director and performer - NIKOLAI ZYKOV

Wardrobe, assistant of puppeteer - NADIA DUBININA

Stage technician, light operator - SERGEY ISAEV

All puppets are created, designed and made by NIKOLAI ZYKOV

First presentation - December 10 2012, Masters of Arts Central House, Moscow, Russia.

Modern edition - February 7 2015, Moscow Puppet Theatre, Russia.
In the program: PROLOGUE (experimental construction), TRIPTYCH (CD-marionettes), ASTROLOGY (radio-controlled objects), HOKU (electro-mechanic object), EXORCISM (garbage marionettes), METAMORPHOSES (electro-mechanic object), HISTOIRE D'AMOUR (glow marionettes), ISLAND OF LOVE (LED-pneumatic object), WORM (experimental construction), GARBAGE CANS (vocal quartet), EPILOGUE (electro-mechanic transformer).
See PHOTO ALBUM of NEW ANIMATION
"Nikolai Zykov - a talented director, actor and artist, who uses the cutting-edge innovations." Moscow Region TV, Russia.
"Nikolai Zykov has a variety of technical surprises that make his shows a success. Nikolai Zykov is making the step of technical development into the future." Jakob Steiner, Austria.
"Nikolai Zykov is a celebrated Russian puppeteer, known for pushing the boundaries of traditional puppetry." World Performing Arts Festival, Lahore, Pakistan.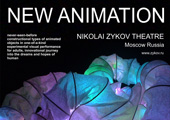 NEW ANIMATION poster
---