MOSCOW RUSSIA
《

亚洲珍宝

》独特的中国,印度,日本,泰国,印度尼西亚和其他亚洲木偶的表演,成人和儿童的木偶戏(40分钟/3人/无付费行李/多达500名观众/无语)
TREASURES OF THE EAST
wordless puppet show for adults and children
technique - string marionettes
duration - 40 min/ up to 500 spectators
transportation - 3 persons/ no paid luggage
TREASURES OF THE EAST - performance of unique Chinese, Indian, Japanese, Thai, Indonesian and other Asian puppets for adults and children. Nikolai Zykov is a world famous puppeteer who has performed his puppet shows in more than 40 countries of Europe, Asia, Africa, North and South America and has created and has made more than 200 unique puppets. Nikolai Zykov is an author, director, artist and performer of over 20 puppet performances which have received many international awards for innovative creativity and outstanding performing mastery, including Awards of World UNIMA Congresses.
Author, artist, director and performer - NIKOLAI ZYKOV

Wardrobe, assistant of puppeteer - NADIA DUBININA

Stage technician, light operator - SERGEY ISAEV

All puppets are created, designed and made by NIKOLAI ZYKOV

First presentation - January 21 2013, Otrada Resort, Moscow Region, Russia.
IN THE PROGRAM: THAI DANCE, ORIENTAL MAGICIAN, CHINESE BEAUTY, INDIAN VIGNETTE, TUNISIAN BEAUTY.
See PHOTO ALBUM of TREASURES OF THE EAST
"His puppet show doesn't leave anybody indifferent. Everything he shows is like a discovery..." Olga Semenova. Molodaya Gvardia, Russia.
"Zykov captivates the audience by precise and majestic manipulation of his delightful and complex puppets" Festival de Bonecos, Canela, Brazil.
"...enchanting show, which can hold the attention of spectators of all ages." Julia Byhanova, Doverie TV, Russia.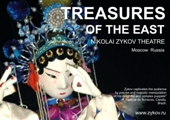 TREASURES OF THE EAST poster
---