MOSCOW RUSSIA

《成年人的新年木偶》原创木偶为新年庆祝活动,成人木偶戏(20~30分钟/1~3人/无付费行李/多达1000名观众/无语)
NEW YEAR DIVERTISSEMENT
wordless puppet show for family audience
technique - string marionettes, experimental and giant puppets
duration - 20-30 min/ up to 1000 spectators
transportation - 1-3 persons/ no paid luggage
NEW YEAR DIVERTISSEMENT - unique award-winning puppet sketches for New Year celebration. Nikolai Zykov is a world famous puppeteer who has performed his puppet shows in more than 40 countries of Europe, Asia, Africa, North and South America and has created and has made more than 200 unique puppets. Nikolai Zykov is an author, director, artist and performer of over 20 puppet performances which have received many international awards for innovative creativity and outstanding performing mastery, including Awards of World UNIMA Congresses.
Nikolai Zykov has performed his puppet shows in many cities of Russia and also in Argentina, Brazil, Venezuela, Mexico, United States, Iceland, Estonia, Latvia, Byelorussia, Poland, Germany, Belgium, United Kingdom, France, Spain, Italy, Switzerland, Austria, Czech Republic, Slovakia, Hungary, Romania, Bulgaria, Greece, Cyprus, Turkey, Israel, Egypt, South Africa, Mauritius, Seychelles, Iran, Kazakhstan, Uzbekistan, Tajikistan, Afghanistan, Pakistan, India, Sri Lanka, China, Singapore, Taiwan, South Korea and Japan.
Among the awards: "Arts Innovation" Award of the 12th China Shanghai International Arts Festival (2010), Diploma and "Excellent Show" Award of the 21th UNIMA Congress and World Puppet Festival in Chengdu (2012), "Performance Award" of Asia-Pacific UNIMA commission (2014), Award of the 4th Colombo International Theatre Festival (2015), Award "For brilliant performing mastery" of the 12th International Festival of Contemporary Puppetry in Bucharest (2016), "Outstanding Creativity" Award of Asia-Pacific UNIMA commission (2017), "Sell-out show" Laurel of Edinburgh Festival Fringe (2017).
Author, artist, director and performer - NIKOLAI ZYKOV

Wardrobe, assistant of puppeteer - NADIA DUBININA

Stage technician, light operator - SERGEY ISAEV

All puppets are created, designed and made by NIKOLAI ZYKOV

Nikolai Zykov performs New Year puppet divertissement for adults since 1980.

Diploma of the 5th Moscow International Exhibition of Entertainment Industry "Ded Moroz" (Russia).
The most popular puppet sketches for adults:
Also have a great successes:
See PHOTO ALBUM of NEW YEAR DIVERTISSEMENT
"Nikolai Zykov is one of the most important puppeteers of the world ... a master!" Festival de Bonecos, Canela, Brazil.
"Nikolai Zykov has a variety of technical surprises that make his shows a success." Jakob Steiner, Austria.
"...the most titled puppeteer of Russia, the master of world class..." News. Culture TV, Russia.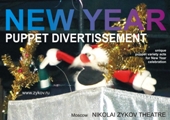 ---