MOSCOW RUSSIA
《宇宙冒险》星星,行星,星系,梦幻般的生物物体和一个浪漫故事,儿童和家庭观众的木偶表演(50分钟/3人/无付费行李/多达1000名观众/无语)
COSMIC ADVENTURE
wordless puppet show for children and family audience
technique - marionettes, radio-controlled puppets and experimental LED constructions
duration - 50 min or 1 h 30 min with one intermission/ up to 800 spectators
transportation - 3 persons/ no paid luggage
COSMIC ADVENTURE - stars, planets, galaxies, fantastic bio objects and one romantic story in puppet performance for children and family audience. Nikolai Zykov is a world famous puppeteer who has performed his puppet shows in more than 40 countries of Europe, Asia, Africa, North and South America and has created and has made more than 200 unique puppets. Nikolai Zykov is an author, director, artist and performer of over 20 puppet performances which have received many international awards for innovative creativity and outstanding performing mastery, including Awards of World UNIMA Congresses.
Author, artist, director and performer - NIKOLAI ZYKOV

Wardrobe, assistant of puppeteer - NADIA DUBININA

Stage technician, light operator - SERGEY ISAEV

All puppets are created, designed and made by NIKOLAI ZYKOV

First presentation - November 4 2013, Beriozki Concert Hall, Moscow Region, Russia.
In the program: STAR GALAXY, ROBOT,, ALIEN, PLANETARIUM, SPACE TRAVEL.
See PHOTO ALBUM of COSMIC ADVENTURE
"...amazing, what great great puppets, excellent, original, funny, entertaining and unique." Peter Garofalo, Northampton, United Kingdom.
" We can straightly say, it is fantastic. Puppets danced, sang and even fly." Latvian News. Daugavpils, Latvia.
"His puppet show doesn't leave anybody indifferent. Everything he shows is like a discovery..." Olga Semenova. Molodaya Gvardia, Russia.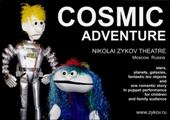 COSMIC ADVENTURE poster
---