MOSCOW RUSSIA

야광불빛 인형극은 아이들과 가족들을 위한 니콜라이(Nikolai Zykov)의 독특하고 실험적인 원맨 인형극입니다.

光木偶戲。木偶劇,兒童和家庭觀眾。電發光的物體和木偶。優秀展示獎。40分鐘,1人,1個手提箱,20公斤總,多達500個觀眾,無言)。
LIGHT PUPPET SHOW
wordless puppet show for family audience
technique - string marionettes, giant, rod, hand and experimental puppets
duration - 40 min/ up to 500 spectators
transportation - 1-2 persons/ no paid luggage
LIGHT PUPPET SHOW - UNIMA awarded one-of-a-kind experimental one-man performance of electro-luminous objects and puppets for children and family audience. Nikolai Zykov is a world famous puppeteer who has performed his puppet shows in more than 40 countries of Europe, Asia, Africa, North and South America. Nikolai Zykov has created and has made more than 200 unique marionettes, hand, rod, radio-controlled and innovative puppets. Nikolai Zykov is an author, director, artist and performer of over 20 puppet performances which have received many international awards including Award of World UNIMA Congress.
Author, artist, director and performer - NIKOLAI ZYKOV

All puppets are created, designed and made by NIKOLAI ZYKOV

First presentation - Chengdu, China, 2012

"Excellent Show" Award of the 21st UNIMA Congress & World Puppetry Festival, Chengdu, China.

Award of Colombo International Theatre Festival, Sri Lanka.
IN THE PROGRAM: SUMMER, MAN OF THE XXI CENTURY, NEON CUCUMBERS, SNOW FANTASY, SPIDER-ALIEN, MOSCOW NIGHTS, GLOW GIANT.
See LIGHT PUPPET SHOW PHOTO ALBUM
LIGHT PUPPET SHOW was presented in Mexico, Russia, Sri Lanka, China and South Korea.
"Nikolai Zykov is a celebrated Russian puppeteer, known for pushing the boundaries of traditional puppetry." World Performing Arts Festival, Lahore, Pakistan.
"Nikolai Zykov has a variety of technical surprises that make his shows a success. Nikolai Zykov is making the step of technical development into the future." Jacob Steiner, Austria.
"We can straightly say, it is fantastic." Latvian News. Daugavpils, Latvia.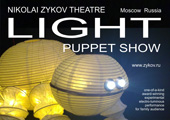 LIGHT PUPPET SHOW poster
---