MOSCOW RUSSIA

《光木偶戲》独一无二的实验一人表演,电发光物体和木偶,为了儿童和家庭观众,UNIMA大会和世界木偶节在中国成都"优秀表演奖" (40分钟/1~2人/无付费行李/多达500名观众/无语)
LIGHT PUPPET SHOW
wordless puppet show for family audience
technique - string marionettes, giant, rod, hand and experimental puppets
duration - 40 min/ up to 500 spectators
transportation - 1-2 persons/ no paid luggage
LIGHT PUPPET SHOW - multi award-winning, funny and unpredictable wordless puppet show featuring a stunning variety innovative electro-luminous objects. Unique marionettes, giant, rod, hand and experimental puppets will entertain and delight the whole family. Nikolai Zykov is a world famous puppeteer who has performed his puppet shows in more than 40 countries of Europe, Asia, Africa, North and South America and has created and has made more than 200 unique puppets. Nikolai Zykov is an author, director, artist and performer of over 20 puppet performances which have received many international awards for innovative creativity and outstanding performing mastery, including Awards of World UNIMA Congresses.
Author, artist, director and performer - NIKOLAI ZYKOV

All puppets are created, designed and made by NIKOLAI ZYKOV

First presentation - May 27 2012, Chengdu (China),

Modern edition - August 5 2017, Edinburgh (UK).

"Excellent Show" Award of the 21st UNIMA Congress and World Puppet Festival in Chengdu (China).

Award of the 4th Colombo International Theatre Festival (Sri Lanka).

Diploma of the 17th San Louis Potosi Festival del Desierto (Mexico).

Official Sell-out show Laurel of Edinburgh Festival Fringe 2017 (UK)
IN THE PROGRAM: SUMMER, MAN OF THE XXI CENTURY, NEON CUCUMBERS, SNOW FANTASY, SPIDER-ALIEN, MOSCOW NIGHTS, GLOW GIANT.
See LIGHT PUPPET SHOW PHOTO ALBUM
LIGHT PUPPET SHOW was presented in Mexico, United Kingdom, Russia, Sri Lanka, China and South Korea.
"Nikolai Zykov is one of the most important puppeteers of the world ... a master!" Festival de Bonecos, Canela, Brazil.

"The work Nikolai Zykov does both modern, and classical is beautiful to look at. Nikolai Zykov is definitely a National Treasure". Steven Mark Overton, USA.

"Nikolai Zykov is a celebrated Russian puppeteer, known for pushing the boundaries of traditional puppetry." World Performing Arts Festival, Lahore, Pakistan.

"Nikolai Zykov has a variety of technical surprises that make his shows a success. Nikolai Zykov is making the step of technical development into the future." Jakob Steiner, Austria.

"...amazing, what great great puppets, excellent, original, funny, entertaining and unique." Peter Garofalo, Northampton, United Kingdom.

"The humor, elaborate sets and the virtuoso operating technique galvanizes the audience..." Tatiana Russkikh. Youth Review, Russia.

"Zykov captivates the audience by precise and majestic manipulation of his delightful and complex puppets" Festival de Bonecos, Canela, Brazil.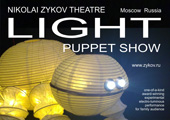 LIGHT PUPPET SHOW poster
---