MOSCOW RUSSIA

《独家木偶》单人秀为家庭观众,中国南充国际木偶艺术周"杰出创意奖"(40分钟/1~2人/无付费行李/多达500名观众/无语)
EXCLUSIVE MARIONETTES
wordless puppet show for family audience
technique - string marionettes
duration - 40 min without intermission/ up to 500 spectators
transportation - 1-2 persons/ no paid luggage
EXCLUSIVE MARIONETTES - award-winning one-man show of unique marionettes for family audience. Nikolai Zykov is a world famous puppeteer who has performed his puppet shows in more than 40 countries of Europe, Asia, Africa, North and South America and has created and has made more than 200 unique puppets. Nikolai Zykov is an author, director, artist and performer of over 20 puppet performances which have received many international awards for innovative creativity and outstanding performing mastery, including Awards of World UNIMA Congresses.
Author, artist, director and performer - NIKOLAI ZYKOV

All puppets are created, designed and made by NIKOLAI ZYKOV

First presentation - July 27 2006, 1st Buenos Aires International Festival of Puppetry and Theatre, Argentina.

"Outstanding Creativity" Award of Asia-Pacific UNIMA Commission of the 2nd Nanchong International Puppet Art Week (China).

Diplomas of International Puppet Festivals in Tehran (Iran) and Tlaxcala (Mexico).

Diplomas of International Art Festival Sinaloa (Mexico).
IN THE PROGRAM: ORIENTAL MAGICIAN, PIPES, PHANTOM OF THE OPERA, CD MAN, QUEEN OF DISCO, FUNNY COMPANY.
See PHOTO ALBUM of EXCLUSIVE MARIONETTES
EXCLUSIVE MARIONETTES was presented in Argentina, Brazil, Mexico, Czech Republic, Slovakia, Austria, Russia, South Africa, Turkey, Pakistan, Iran, Uzbekistan, Tajikistan, South Korea and China.
"Nikolai Zykov is one of the most important puppeteers of the world!" Festival de Bonecos, Canela, Brazil.
"Nikolai Zykov is a celebrated Russian puppeteer, known for pushing the boundaries of traditional puppetry." World Performing Arts Festival, Lahore, Pakistan.
"...amazing, what great great puppets, excellent, original, funny, entertaining and unique..." Peter Garofalo, Northampton, United Kingdom.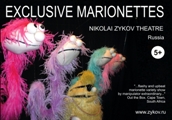 EXCLUSIVE MARIONETTES poster
---