MOSCOW RUSSIA

SPACE SHOW OF LIGHT PUPPETS AND MARIONETTES
wordless puppet show for children and family audience
technique - marionettes, rod, giant, LED, EL-wire, radio-controlled and experimental puppets
duration - 60 min
a completely original, innovative, interactive family show of electric light puppets and marionettes, without a language barrier. This is a large astronomic show, consisting only of electric light puppets and the latest technological designs, measuring from 1 to 8 meters and capable of surprising the most demanding spectators of any age. The program of the show is designed as a journey into the world of space adventures and discoveries. Galaxies and planetary systems are born right before your eyes in this performance, astronauts go to distant planets and into open space, where they will inevitably meet the most unusual forms of life, and a flying saucer with an unpredictable Martian arrives on Earth. At this performance, adults again plunge into the world of their childhood fantasies and, having lost the sense of space and time, they regain the possibility of sincere surprise and genuine delight. The unique performances of the Nikolai Zykov Theater are gathering full halls all around the world with invariable success. Critics call these shows "like a discovery", and Nikolai Zykov "one of the most significant puppeteers in the world."
Nikolai Zykov is an artist of the world stage, who has delighted spectators in more than 50 countries of Europe, Asia, Africa, North and South America, has created more than 200 unique puppets, glove, rod and experimental puppets. Nikolai is the author, director, artist and performer of more than 30 puppet shows with many international awards for innovative creativity and outstanding performance, including awards of the UNIMA World Puppeteers Congresses.
Each puppet is completely unique and unusual in this performance. Electroluminescent wires, different types of LEDs and LED drops are used for light puppets. Unique light structures are created and transformed right before the eyes of the audience, then easily hover over the stage and auditorium. The original vertical light-dynamic design allows you to see the birth of a new planetary system. Spectators in this performance have a unique opportunity to see a fully radio-controlled puppet sketch. Even the string marionettes in this performance have completely new designs, materials and control systems.
"His presentation leaves no one indifferent. Whatever he shows - all this is akin to discovery." Olga Semyonova. Young Guard, Russia.
"... This is, frankly, a fantasy. The puppets danced, sang and even flew." Alena Sinitsyna, Hour. Riga, Latvia.
"…amazing, what great great puppets, excellent, original, funny, entertaining and unique." Peter Garofalo, Northampton, UK.
"Whole families go to his performances. Each production by Zykov is not just a performance, but an enchanting show that can hold the attention of viewers of different ages." Yulia Bykhanova, Trust TV, Russia.
"If we talk about the puppet genre, then experiments are being carried out in it today. New technical capabilities allow you to do completely unexpected tricks." - TV channel ORT, Russia.
"Nikolay Zykov is the most titled puppeteer in Russia, a master of the highest international class ..." News. TV channel Culture, Russia.
"Nikolai's works, both modern and classical, are beautiful. He is undoubtedly the treasure of the nation." Stephen Mark Overton, USA.
"Nikolai Zykov is one of the most significant puppeteers in the world, ... a real Master!" Festival de Bonecos, Canela, Brazil.
Among the awards: "Arts Innovation" Award of the 12th China Shanghai International Arts Festival (2010), "Excellent Show" Award of the 21st UNIMA Congress and World Puppet Festival in Chengdu (2012), "Performance Award" of Asia-Pacific UNIMA commission (2014), Award of the 4th Colombo International Theatre Festival (2015), Award "For brilliant performing mastery" of the 12th International Festival of Contemporary Puppetry in Bucharest (2016), "Outstanding Creativity" Award of Asia-Pacific UNIMA commission (2017), "Sell-out show" Laurel of Edinburgh Festival Fringe (2017).
Nikolai Zykov has performed his puppet shows more than 4000 times in more than 50 countries around the world: in Argentina, Brazil, Venezuela, Mexico, United States, Canada, Iceland, Estonia, Latvia, Russia, Byelorussia, Poland, Germany, Belgium, United Kingdom, France, Spain, Italy, Switzerland, Austria, Czech Republic, Slovakia, Hungary, Romania, Moldova, Transnistria, Bulgaria, Greece, Cyprus, Turkey, Israel, Egypt, South Africa, Mauritius, Seychelles, Azerbaijan, Iran, Kazakhstan, Uzbekistan, Tajikistan, Afghanistan, Pakistan, India, Bangladesh, Sri Lanka, China, Singapore, Taiwan, South Korea and Japan.
In the program: STAR GALAXY, VENTILATION PIPES, SPACE TRAVEL, CONSTELLATIONS, NEON CUCUMBERS, PLANETARIUM, OPEN SPACE, PINK CATS, ASTRONAUT. (The program can be changed)
The duration of the show is 1 hour without intermission.

Presentation without a language barrier.

Age category of presentation 0+

The show is recommended for spectators from 3 years old

Puppet technique - marionettes, rod, giant, LED, EL-wire, radio-controlled and experimental puppets

Author, artist, director and performer - NIKOLAY ZYKOV

Puppeteer and puppeteer assistant - NADEZHDA DUBININA.

Puppeteer and Technical Director - SERGEY ISAEV.

All puppets are created, designed and made by NIKOLAI ZYKOV

First presentation - December 5, 2004, Sayany Concert Hall, Moscow, Russia.

Modern edition - July 17, 2021, Bashkir Drama Theater, Salavat, Russia.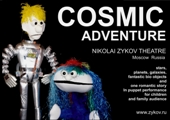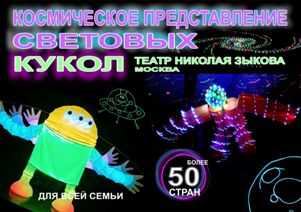 Technical requirements: one microphone in hand and a non-stop mp3 playback, the preferred stage wide - 8-12 m, stage depth - 8-12 m, the curtains must be black or dark, one 220 V socket is required on the stage. More information in Official rider.
---