MOSCOW RUSSIA
HALLOWEEN PUPPET SHOW
wordless puppet show for family audience
technique - string marionettes and radio-controlled puppets
duration - 20-30 min/ up to 500 spectators
transportation - 1-3 persons/ no paid luggage
HALLOWEEN PUPPET SHOW - LED, EL-wire, radio-controlled puppets and unique marionettes in funny Halloween puppet show for family audience. Nikolai Zykov is a world famous puppeteer who has performed his puppet shows in more than 40 countries of Europe, Asia, Africa, North and South America. Nikolai Zykov has created and has made more than 200 unique marionettes, hand, rod, radio-controlled and innovative puppets. Nikolai Zykov is an author, director, artist and performer of over 20 puppet performances which have received many international awards including Award of World UNIMA Congress.
Author, artist, director and performer - NIKOLAI ZYKOV

All puppets are created, designed and made by NIKOLAI ZYKOV

First presentation - Moscow, Russia, 2012
IN THE PROGRAM: PUMPKINS, MANTIS, NEON CUCUMBERS, SPIDER-ALIEN, PHANTOM OF THE OPERA, GHOST DANCE, GLOW GIANT.
"...amazing, what great great puppets, excellent, original, funny, entertaining and unique." Peter Garofalo, Northampton, United Kingdom.
"Nikolai Zykov - a talented director, actor and artist, who uses the cutting-edge innovations." Moscow Region TV, Russia.
"Nikolai Zykov has a variety of technical surprises that make his shows a success. Nikolai Zykov is making the step of technical development into the future." Jacob Steiner, Austria.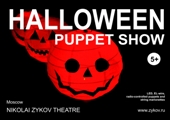 HALLOWEEN PUPPET SHOW poster
---