MOSCOW RUSSIA

Nikolai Zykov Theatre preserves and develops the art of puppetry based on the ancient traditions of different countries of the world by using innovative materials and technologies.

Nikolai Zykov Theatre offers puppet performances for adults, children and family audience, master-classes for professionals and puppet lovers. All performances of Nikolai Zykov Theatre are wordless, can be presented on stages of any size, have minimum time for set up, have only 1 to 3 members of personnel and have no additional expenses for luggage.

Nikolai Zykov is a world famous puppeteer who has performed his puppet shows in more than 40 countries of Europe, Asia, Africa, North and South America.

Nikolai Zykov has created and has made more than 200 unique marionettes, hand, rod, radio-controlled and innovative puppets.

Nikolai Zykov is an

author, director, artist and performer of over 20 puppet performances which

have received many international awards for innovative creativity and outstanding performing mastery, including

Awards of World UNIMA Congresses

.
STAGES
List of the most famous theatres and concert halls which hosted Nikolai Zykov Theatre
Moscow
State Kremlin Palace, Moscow Kremlin Armory, Moscow Kremlin Arsenal, Concert Hall of The Presidential Administration of Russia, Government of Russian Federation, Moscow City Government, State Central Concert Hall Russia, Moscow International Performing Arts Centre, Tchaikovsky Concert Hall, Pillar Hall of The House of Unions, State Academic Chamber Music Theatre, Obraztsov State Academic Central Puppet Theatre, Moscow Puppet Theatre, State Variety Theatre, Youth Palace Concert Hall, Cosmos Concert Hall, Izmailovo Concert Hall, Moskvich Concert Hall, Central TV Concert Hall, Ostankino Tower Concert Hall, Green Theatre of Gorky Park, Masters of Arts Central House, Central House of Artists, Central House of Actors, Central House of Architects, Central House of Writers, Central House of Journalists, Central House of Scientists, Concert Hall of the Museum of Musical Culture, State Central Theatre Museum, Concert Hall of the Memorial Museum of Astronautics, Residence of the United States Ambassador, Residence of British Ambassador, Residence of Swedish Ambassador, Residence of Argentinean Ambassador, Concert Hall of the United States Embassy, Concert Hall of French Embassy, Concert Hall of Polish Embassy, Embassy of Canada, Embassy of Australia, Embassy of Japan, Residence of the Defense Attaché of Great Britain, Residence of the Defense Attaché of France, Meiendorf Castle of Presidential Executive Office.
Russia
Russia Concert Hall (Kaliningrad), Drama Theatre (Murmansk), Palace of Culture (Apatity), City Palace of Culture (Kovdor), Palace of Culture (Kandalaksha), Variety Theatre (St. Petersburg), Vremya Concert Hall (St. Petersburg), House of Writers (St. Petersburg), Akron Cultural Palace (Novgorod), Dom Kino (Tver), Rodina Palace of Culture (Khimki), Podmoskovie Palace of Culture (Krasnogorsk), Mir Culture Centre (Istra), Lyubov Orlova Culture Centre (Zvenigorod), Solnechnyi Cultural Palace (Odintsovo), Zvezda Palace of Culture (Narofominsk), Scientists Concert Hall (Troitsk), Oktyabr Palace of Culture (Podolsk), Russia Cultural Palace (Serpukhov), Proton Cultural Palace (Protvino), Concert Hall of Lenin's Museum (Gorki Leninskie), City Palace of Culture (Stupino), Chemist Palace of Culture (Voskresensk), Gorky Palace of Culture (Electrostal), Cultural Palace Pavlovsko-Pokrovsky (Pavlovsky Posad), Public Culture Centre (Rybinsk), Kalinin Palace of Culture (Korolev), City Palace of Culture (Krasnoarmeisk), Pobeda Concert Hall (Pushkin), Gagarin Palace of Culture (Sergiev Posad), Atrium Culture Centre (Sergiev Posad), Oktyabr Concert Hall (Dmitrov), Mir Palace of Culture (Dubna), People's Theater (Gagarin), Miners Cultural Palace (Safonov), Palace of Culture (Obninsk), Philharmonic Concert Hall (Kaluga), Philharmonic Concert Hall (Tula), Green Theatre (Ryazan), Philharmonic Concert Hall (Tambov), Palace of Culture of Railway Workers (Orel), the Palace of Culture and Technology (Stary Oskol), Palace of Sports (Lipetsk), Gorky Drama Theatre (Rostov-on-Don), Korabel Concert Hall (Sevastopol), Feya Concert Hall (Anapa), Yuzhnoe Vzmorye Concert Hall (Sochi), Palace of Pioneers (Volgograd), Youth Theatre (Vologda), Cultural Palace of GAZ auto plant (Nizhni Novgorod), Mir Concert Hall (Nizhny Novgorod), Palace of Culture and Technology VAZ car factory (Togliatti), Philharmonic Concert Hall (Togliatti), Palace of Sports (Ufa), Palace of Culture (Chusovoi), Alliance Cultural Center (Kogalym), Burovik Culture-Sport Complex ( Novy Urengoy), Rubyn Cultural Palace (Omsk), Progress Palace of Culture (Novosibirsk), Gorky Palace of Culture (Novosibirsk), Mayakovsky Concert Hall (Novosibirsk), Palace of Fine Arts (Bratsk)
South America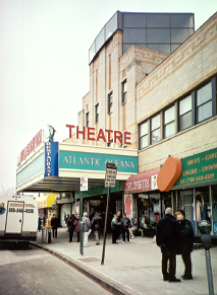 Teatro Jose Verdi (Buenos Aires, Argentina), Teatro Catalinas Sur (Buenos Aires, Argentina), Teatro Sociedad Luz (Buenos Aires, Argentina), Teatro Municipal (Canela, Brazil), Grand Teatro (Jaragua do Sul, Brazil), Teatro Guaira (Curitiba, Brazil), Ipiranga Centro Cultural (Sao Paulo, Brazil), Teatro Nacional (Caracas, Venezuela)
North America
Teatro Xicohtencatl (Tlaxcala, Mexico), Teatro Casa De Pedro (San Bernardino, Mexico), Centro Cultural La Libertad (Apizaco, Mexico), National Puppet Museum (Huamantla, Mexico), Teatro Manuel Jose Othon (Matehuala, Mexico), Teatro Juarez (Cedral, Mexico), Teatro El Pilar (Villa de La Paz, Mexico), Washington University (Seattle, USA), Golden Gates Hall (Philadelphia, USA), Millennium Theatre (New York, USA)
Europe
Frikirkjuvegur Cultural Centre (Reykjavik, Iceland), Gerduberg Cultural Centre (Reykjavik, Iceland), Tallinna Linnahall (Tallinn, Estonia), Kongresu Nama Concert Hall (Riga, Latvia), House of Writers (Riga, Latvia), Theatre de Flandres (Gent, Belgium), C+2 Theatre (Edinburgh, UK), Municipal Theater (Charleville-Mezieres, France), Salle Porte de Flandres (Charleville-Mezieres, France), Salle Dubois Crance (Charleville-Mezieres, France), Salle Madame de Sevigne (Charleville-Mezieres, France), Centro Municipal Integrado de El Llano (Gijon, Spain), Russian Culture Institute (Vienna, Austria), Teatro Della Villa (Porto San Elpidio, Italy), Teatro Pineta Nord (Porto San Elpidio, Italy), Palazzo Montani Antaldi (Pesaro, Italia), Arlekin Puppet Theatre (Lodz, Poland), Minsk Concert Hall (Minsk, Belarus), Russian Culture and Science Centre (Prague, Check Republic), Russian Culture and Science Centre (Bratislava, Slovakia), State Puppet Theatre (Budapest, Hungary), Nottara Theatre (Bucharest, Romania), Municipal Theatre (Kilkis, Greece), Municipal Theatre (Latsia, Cyprus), Profilo Theatre (Istanbul, Turkey), Sefakoy Cultural and Arts Center (Istanbul, Turkey), French Culture Centre (Istanbul, Turkey), Tayyare Kultur Merkezi (Bursa, Turkey), Karageuz Museum (Bursa, Turkey), Sabanci Kultur Merkezi (Izmir, Turkey)
Africa
Jesuits Cultural Centre (Alexandria, Egypt), Baxter Concert Hall (Cape Town, South Africa), Plaza Theatre (Rose Hill, Mauritius), Municipal Theatre (Port Louis, Mauritius), Concert Hall of Russian Embassy (Victoria, Seychelles)
Asia
Shiin Concert Hall (Tel Aviv, Israel), Rappoport Concert Hall (Haifa, Israel), Duna Concert Hall (Ashdod, Israel), Merkaz Tsariim Concert Hall (Beersheba, Israel), University of Arts (Tehran, Iran), Friendship Palace Concert Hall (Tashkent, Uzbekistan), Palace of Republic (Alma Ata, Kazakhstan), Cosmodrome Baikonur Concert Hall (Kazakhstan), Geolog Concert Hall (Penjikent, Tajikistan), Culture Centre (Kabul, Afghanistan), Alhambra Cultural Complex (Lahore, Pakistan), India Habitat Theatre (New Delhi, India), British School (Colombo, Sri Lanka), Goethe-Institut (Colombo, Sri Lanka), Shanghai Puppet Theatre (Shanghai, China), Century Dances Theatre (Chengdu, China), Guocheng Concert Hall (Nanchong, China), Zizhong Puppet Theatre (Zizhong, China), The Substation Guinness Theatre (Singapore), Sun Yat-sen Memorial Concert Hall (Taipei, Taiwan), Chung Shing Concert Hall (Taichung, Taiwan), Culture Center (Tainan, Taiwan), Gangshan Culture Center (Kaohsiung, Taiwan), Culture Center (Pingtung, Taiwan), Munye Theatre (Seoul, South Korea), Midopa Concert Hall (Seoul, South Korea), Prehistory Museum (Yeoncheon, South Korea), Municipal Theatre (Chuncheon, South Korea), Children's Museum (Yongin, South Korea), Youth Culture Centre (Suwon, South Korea), KBS Suwon Art Hall (Suwon, South Korea), World Expo Theatre (Taejon, South Korea), Grand Theatre (Chilgok, South Korea), Wonhwa Theatre (Geyongju, South Korea), Narimasu Concert Hall (Tokyo, Japan), Metropolitan Art Space (Tokyo, Japan)
---