MOSCOW RUSSIA
SKELETOSAUR SHOW
21 CENTURY PUPPETS
wordless puppet show for children and family audience
technique - unique marionettes, giant, radio-controlled, LED and experimental puppets
duration - 50 min or 1 h 30 min with one intermission/ up to 1000 spectators
transportation - 3 persons/ no paid luggage
SKELETOSAUR SHOW - living ventilation pipes, radio-controlled matryoshkas and giant LED dinosaur in a fun family show. Nikolai Zykov is a world famous puppeteer who has performed his puppet shows in more than 40 countries of Europe, Asia, Africa, North and South America. Nikolai Zykov has created and has made more than 200 unique marionettes, hand, rod, radio-controlled and innovative puppets. Nikolai Zykov is an author, director, artist and performer of over 20 puppet performances which have received many international awards including Award of World UNIMA Congress.
Author, artist, director and performer - NIKOLAI ZYKOV

Wardrobe, assistant of puppeteer - NADIA DUBININA

Stage technician, light operator - SERGEY ISAEV

All puppets are created, designed and made by NIKOLAI ZYKOV

First presentation - Moscow, Russia, 2012

Modern edition - Moscow, Russia, 2015
In the program: VENTILATION PIPES, AFRICAN DANCE, MANTIS, BIRDS, WORM, MATRYOSHKAS, SKELETOSAUR.
See PHOTO ALBUM of SKELETOSAUR SHOW
"...amazing, what great great puppets, excellent, original, funny, entertaining and unique." Peter Garofalo, Northampton, United Kingdom.
"...enchanting show, which can hold the attention of spectators of all ages." Julia Byhanova, Doverie TV, Russia.
"Nikolai Zykov is making the step of technical development into the future." Jacob Steiner, Austria.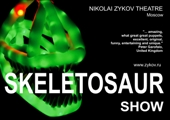 SKELETOSAUR SHOW poster
---