MOSCOW RUSSIA

《莫斯科牵线木偶》 单人秀为家庭观众(40分钟/1~2人/无付费行李/多达500名观众/无语)
MOSCOW MARIONETTES
wordless puppet show for family audience
technique - string marionettes
duration - 40 min/ up to 500 spectators
transportation - 1-2 persons/ no paid luggage
MOSCOW MARIONETTES - award-winning one-man show of unique marionettes for all ages. Nikolai Zykov is a world famous Moscow puppeteer who has performed his puppet shows in more than 50 countries of Europe, Asia, Africa, North and South America and has created and has made more than 200 unique puppets. Nikolai Zykov is an author, director, artist and performer of over 20 puppet performances which have received many international awards for innovative creativity and outstanding performing mastery, including Awards of World UNIMA Congresses.
"Nikolai Zykov is one of the most important puppeteers of the world!" Festival de Bonecos, Canela, Brazil.
"Nikolai Zykov is a celebrated Russian puppeteer, known for pushing the boundaries of traditional puppetry." World Performing Arts Festival, Lahore, Pakistan.
"...amazing, what great great puppets, excellent, original, funny, entertaining and unique..." Peter Garofalo, Northampton, United Kingdom.
"...flashy and upbeat marionette variety show by manipulator extraordinaire..." Out the Box. Cape Town, South Africa.
"The humor, elaborate sets and the virtuoso operating technique galvanizes the audience..." Tatiana Russkikh. Youth Review, Russia.
Among the awards: "Arts Innovation" Award of the 12th China Shanghai International Arts Festival (2010), Diploma and "Excellent Show" Award of the 21th UNIMA Congress and World Puppet Festival in Chengdu (2012), "Performance Award" of Asia-Pacific UNIMA commission (2014), Award of the 4th Colombo International Theatre Festival (2015), Award "For brilliant performing mastery" of the 12th International Festival of Contemporary Puppetry in Bucharest (2016), "Outstanding Creativity" Award of Asia-Pacific UNIMA commission (2017), "Sell-out show" Laurel of Edinburgh Festival Fringe (2017).
Nikolai Zykov has performed his puppet shows more than 3500 times in more than 50 countries around the world: in Argentina, Brazil, Venezuela, Mexico, United States, Canada, Iceland, Estonia, Latvia, Byelorussia, Ukraine, Poland, Germany, Belgium, United Kingdom, France, Spain, Italy, Switzerland, Austria, Czech Republic, Slovakia, Hungary, Romania, Moldova, Transnistria, Bulgaria, Greece, Cyprus, Turkey, Israel, Egypt, South Africa, Mauritius, Seychelles, Azerbaijan, Iran, Kazakhstan, Uzbekistan, Tajikistan, Afghanistan, Pakistan, India, Bangladesh, Sri Lanka, China, Singapore, Taiwan, South Korea and Japan.
IN THE PROGRAM: RUSSIAN DANCE, LAMBADA, PIPES, SAXOPHONE PLAYER, CD MAN, TWISTER, RUSSIAN SOUVENIR,
Author, artist, director and performer - NIKOLAI ZYKOV

Assistant of puppeteer - NADIA DUBININA

All puppets are created, designed and made by NIKOLAI ZYKOV

First presentation - December 10 2017, Concert Hall of Quanzhou Art School, Quanzhou, China.

Honorary Award of The 3rd Maritime Silk Road International Arts Festival and The 5th International Puppetry Festival in Quanzhou (China)
See PHOTO ALBUM of MOSCOW MARIONETTES.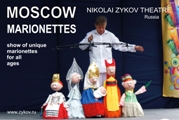 MOSCOW MARIONETTES poster
Technical requirements: one microphone in hand and a non-stop mp3 (or Audio CD) playback, the preferred stage height is 1m 10cm, depth is 4m.
---