MOSCOW RUSSIA
니콜라이 주코프의 2012년작 "공룡과 그의 친구들"은 전기 루미네선스의 창조물 자이언트 공룡과 그의 친구들이 등장하는 어린이와 가족을 위한 인형극으로 많은 축제의 상을 수상한 니콜라이 주코프만의 독특한 인형들을 감상할 수 있는 절호의 기회를 놓치지 마시기 바랍니다.
恐龍和他的朋友。木偶劇,兒童和家庭觀眾。串木偶,巨型木偶,棒木偶,布袋木偶,LED木偶,霓虹燈木偶。(50分鐘,3人,3個行李箱,60公斤計,最多1000個觀眾,無言)。
DINOSAUR AND HIS FRIENDS
wordless puppet show for children and family audience
technique - string marionettes, giant, rod, hand, LED and neon puppets
duration - 50 min without intermission or 1 h 30 min with one intermission/ up to 1000 spectators
transportation - 3 persons/ no paid luggage
DINOSAUR AND HIS FRIENDS - electroluminescent creatures, unique marionettes and giant Dinosaur in UNIMA awarded puppet show for children and family audience. Nikolai Zykov is a world famous puppeteer who has performed his puppet shows in more than 40 countries of Europe, Asia, Africa, North and South America. Nikolai Zykov has created and has made more than 200 unique marionettes, hand, rod, radio-controlled and innovative puppets. Nikolai Zykov is an author, director, artist and performer of over 20 puppet performances which have received many international awards including Award of World UNIMA Congress.
Author, artist, director and performer - NIKOLAI ZYKOV

Wardrobe, assistant of puppeteer - NADIA DUBININA

Stage technician, light operator - SERGEY ISAEV

All puppets are created, designed and made by NIKOLAI ZYKOV

First presentation - March 20 1985, Baikonur Cosmodrome Concert Hall, Kazakhstan.

Modern edition - October 3 2012, Duna-Ud Concert Hall, Ashdod, Israel.

"Performance Award" of Asia-Pacific UNIMA Commission.
IN THE PROGRAM: BABY DINOSAUR, ELECTRIC SNAKE, BRAZILIAN SINGER, NEON CUCUMBERS, ORIENTAL MAGICIAN, MOSCOW NIGHTS, TWISTER, NEON BUTTERFLY, DINOSAUR.
See PHOTO ALBUM of DINOSAUR AND HIS FRIENDS
DINOSAUR AND HIS FRIENDS was presented in many Russian cities, as well as in Turkey, Israel, Kazakhstan, China, Taiwan and South Korea."
...the most titled puppeteer of Russia, the master of world class..." News. Culture TV, Russia.
"Nikolai Zykov who attended the Festival from Russia impressed everyone, even the children and the adults. His show was wordless but everyone could understand easily." Murat Sezer. Vizyon, Turkey.
"Nikolai Zykov has a variety of technical surprises that make his shows a success. His puppets live independently from their creator. Nikolai Zykov is making the step of technical development into the future." Jakob Steiner, Austria.
.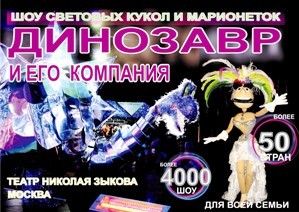 DINOSAUR AND HIS FRIENDS poster
---