MOSCOW RUSSIA
I AM 50, BUT I PLAY PUPPETS
wordless puppet performance for adults
technique - string marionettes, giant, radio-controlled and experimental puppet
duration - 60 min or 1 h 50 min with one intermission/ up to 800 spectators
transportation - 3 persons/ no paid luggage
I AM 50, BUT I PLAY PUPPETS - unique puppet vignettes in puppet musical show for adults. Nikolai Zykov is a world famous puppeteer who has performed his puppet shows in more than 40 countries of Europe, Asia, Africa, North and South America. Nikolai Zykov has created and has made more than 200 unique marionettes, hand, rod, radio-controlled and innovative puppets. Nikolai Zykov is an author, director, artist and performer of over 20 puppet performances which have received many international awards including Award of World UNIMA Congress.
Author, artist, director and performer - NIKOLAI ZYKOV

Wardrobe, assistant of puppeteer - NADIA DUBININA

Stage technician, light operator - SERGEY ISAEV

All puppets are created, designed and made by NIKOLAI ZYKOV

First presentation - October 26 2015, Central House of Artists, Moscow, Russia.
In the program - JAPANESE BEAUTY, PHANTOM OF THE OPERA, BIRDS, ALIEN, MICROCOSMOS, PIERROT, FUNNY COMPANY, QUEEN OF DISCO, SKELETOSAUR
See PHOTO ALBUM of I AM 50, BUT I PLAY PUPPETS
"Nikolai Zykov is one of the most important puppeteers of the world ... a master!" Festival de Bonecos, Canela, Brazil.
"Nikolai Zykov is a celebrated Russian puppeteer, known for pushing the boundaries of traditional puppetry." World Performing Arts Festival, Lahore, Pakistan.
"Nikolai Zykov has a variety of technical surprises that make his shows a success. His puppets live independently from their creator. Nikolai Zykov is making the step of technical development into the future." Jakob Steiner, Austria.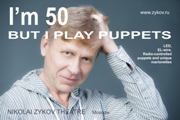 I AM 50, BUT I PLAY PUPPETS poster
---